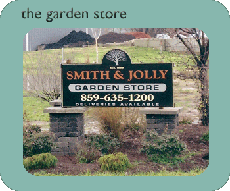 Visiting Smith & Jolly Garden Store is better than walking through the park. Smith & Jolly maintains a vast selection of annuals, Perennials, shrubs and trees. If you need it for your lawn or garden, Smith & Jolly has it or we'll help you get it!
Stop and visit our garden store!
10307 Alexandria Pike
Alexandria, Kentucky 41001
Phone: (859) 635-1200
Fax: (859) 635-1210
Everything the gardener needs
Patios & terraced gardens landscaped for beautiful outdoor living space.
A walk through our Garden Store will help guide you in choosing vibrant ground cover, trees, annuals and perennials for your yard.
Plants

Seed

Herbs

Annuals

Perennials

Shrubs

Trees

Ponds

Fountains

Containers

Custom Potting

Wreaths

Lawn Care

Delivery

Installation

Season Arrangements

Garden Tools

Fruits & Vegetables

Bird Feeders & Houses

Bird Seed

Fertilizer

Remedies for Weeds & Pests

Gift Certificates

Gifts for all Occasions